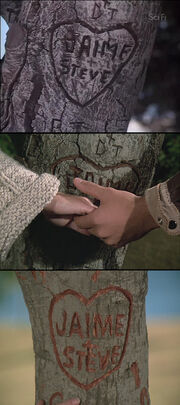 1. Last night I watched "Howard's End," which features a tree that has pig's teeth stuck in it. (I know.)
2. Today I watched an episode of "Lark Rise to Candleford" which features a bleeding tree.
3. I FINALLY found an image of the tree in Ojai on which Steve Austin and Jaime Somers carved their names all those years ago.
Bonus joy: That there is a bionic wiki; That there is an actual human living in Ojai named Jamie Somers; That he is a man.